Digital Torque Meter Hp 10
Torque gauges are measuring instruments for torque such as rotating and twisting force. (Torque gauges are different from torque wrenches or drivers, which are tools to tighten screws properly.) Torque gauges handle a wide range of torque test such as tightening force of screws, rotating force of keys, opening & closing torque of bottle caps, twisting force of circuit boards, and more. IMADA offers various types of torque testing products such as handheld type, desktop type, and attachments. To improve accuracy, torque gauge is able to be combined with a torque test stand, which offers constant test speed or angle.
•LED display showing accurate numeric torque readings
•Convertible UOM:ibf.in, kgf.cm and N.m
•Maintenance and display of max.torque value. Giving precision setting of torque for the tools
•Clockwise or counterclockwise operation for measurement of tightening and loosening torque
•Tracking and display peak value of torque, and easy reading of values
•Standard analog signal output
•Simple and robust mechanism, integral torque testing part and pull force gauge
•Statistical program control system
Small size, light weight, rechargeable design, and convenient for carrying
•With energy saving function, allowing for extending service duration.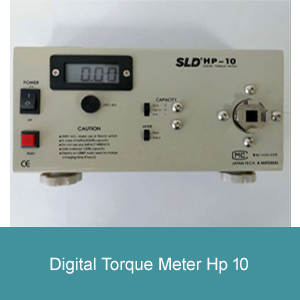 Product Details:
| | |
| --- | --- |
| Brand | SLD |
| Model Name/Number | HP 10 |
| Display Type | Digital. |